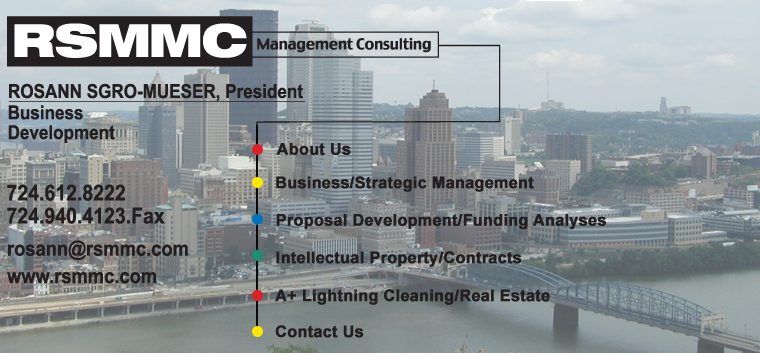 Whose idea/service/product is this?
Intellectual Property

Eliminate the risk factors of the transfer of your technology to the market. RSMMC Management Consulting will develop Intellectual Property portfolios for your business concept, including the filing of patents, copyrights and trademarks. When you take this critical step to develop claims for patent development purposes and negotiate contractual licenses, your products and services will thrive and grow with the appropriate structure for legal protection and increased market penetration.

RSMMC Management Consulting will manage your intellectual property portfolio to enhance your business potential and to promote technology transfer and development. RSMMC Management Consulting technology development services include the review of inventions for patentability and potential commercialization, managing the patent application and review process and negotiating licensing as well as other agreements with third parties. Rosann and her staff will establish key research collaborations with industry leaders and encourage new venture formations as a route to technology commercialization.

The mission of the RSMMC Management Consulting Intellectual Property - Technology Development division is to foster and facilitate closer ties between your business and national and global industries through the exchange of information, collaborative research, management of intellectual property and the transfer of technology through licensing and the establishment of new companies to: 1) benefit the public good and the viability of your business as well as the communities it serves; 2) increase investment potential in the research enterprise of your business focus; 3) encourage inter-institutional cooperation locally, regionally, nationally and globally; 4) promote client satisfaction in order to gain strategic business interactions and alignments; and 5) enhance the economic growth in the communities served by your specific business.



---


What about legal ramifications?
Contracts, Organization & Incorporation

Contracts and agreements, basic infrastructure design and set-up, general incorporation processes - all essential for a well-protected business. RSMMC Management Consulting follows standard due diligence processes and negotiates sound technology transfer agreements. We utilize our business expertise and legal advisors in several areas of expertise to include expansion models and base development for:

Appropriate incorporation of business entities and general business operations including
License Agreements
Contractual Agreements
Non-Disclosure Agreements
Employment Agreements

As an integral part of any business, but especially within the scope of intellectual property and technology development functions, agreements are key to promote the transfer of ideas to industry while fostering new business development and growth. RSMMC Management Consulting has the necessary expertise for the effective development and execution of various agreements including, but not limited to, MOU's (Memorandum of Understanding), MTA's (Material Transfer Agreements), CDA's (Confidentiality Disclosure Agreements), Employment Agreements and Consulting Agreements, just to name a few.


Home | About Us | Business/Strategic Management | Proposal Development/Funding Analyses | Intellectual Property/Contracts | A+ Lightning Cleaning/Real Estate | Contact Us
All content © 2012 RSMMC, LLC.